Meet the animals
The well being of our animals is our #1 priority, even after placement. Please make sure you are willing and able to take on the responsiblity of a new pet in your life. Get all family members involved in the decision making. When there's no doubt that you can provide a permanent, loving home to an animal in need, please e-mail us for more information.
Despite our best efforts, some horses are not suitable for adoption. Be it due to severe abuse, old age or some kind of disability. These
animals are now available for placement under our new *Wish Upon A Star* Permanent Foster Home Program.
So, if you think you would love to have one of our old-timers living out his/her life in your company, please complete the
Permanent Foster Home Application.

It takes a lot of money caring for our permanent residents. Your sponsorship will assure the animals well being. If you love animals, but can't have one of your own, please consider sponsoring one of our animals.
Scroll down, please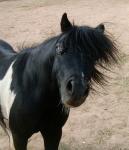 Click link or picture to visit our current residents
---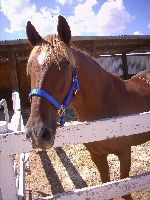 Click link or picture to see some of the animals placed into new loving homes
---